176 million people worldwide have endometriosis. Despite its prevalence, many people don't know what it is. It's not talked about, it's under-researched, and it's persistently underfunded. For Endometriosis Awareness Month, Bustle UK is hearing from people living with the condition and doctors who specialise in it, and is opening up the conversation to help you get the treatment you deserve.
Coping with chronic pain, heavy periods, fatigue, and the many other symptoms associated with endometriosis can be a debilitating ordeal. However, something that can help those dealing with the condition is knowing that they're not alone. Some celebrities have shared their struggle with endometriosis, in the hopes that their stories will help others.
Endometriosis is defined by the NHS as "A condition where tissue similar to the lining of the womb starts to grow in other places, such as the ovaries and fallopian tubes". It can affect women at any age and symptoms include debilitating pelvic pain, heavy or irregular periods, and fatigue, to name just a few.
These are some of celebrities who have opened up and shared their experiences with the condition in an effort to make people aware that endometriosis is very real and women need not suffer in silence.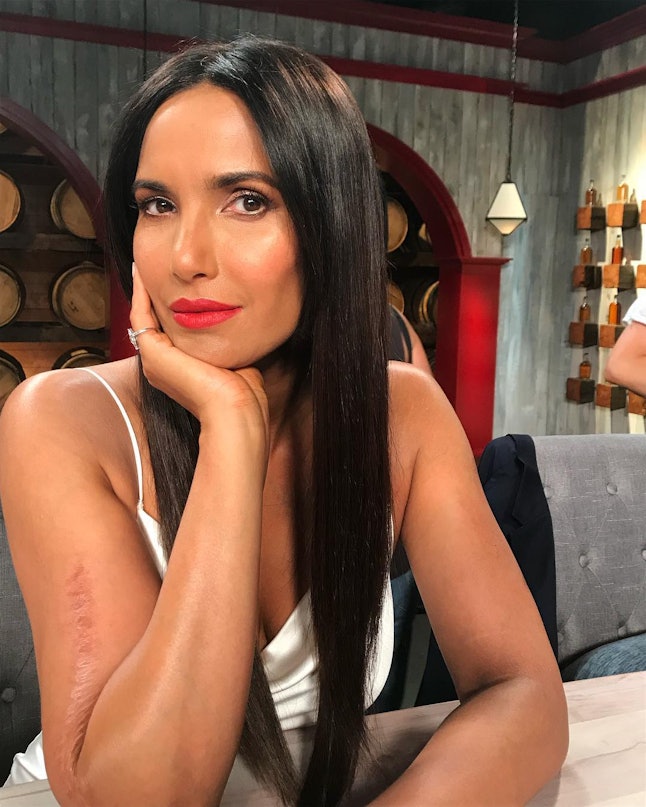 Top Chef host and founder of the Endometriosis Foundation of America, Lakshmi has been very vocal about her struggle to be diagnosed and the anguish it caused her.
Speaking on stage at Variety's Power Of Women event, she put into cold hard factswhat the condition has cost her. "I was diagnosed at 36 after suffering every month since the age of 13 with so much heavy bleeding, cramps, nausea, backaches and digestive issues that I was stuck in bed one week out of every month when my period came. One week a month, three months a year for 23 years. That's five years and nine months of my life that I was bedridden. Missing school dances, math quizzes, auditions, family milestones and wedding anniversaries."
She also went on to point out the glaring unfairness of how she has been treated by medical professionals in the U.S. That if she was a cis man that she would have been treated differently. "If I was a man and couldn't get it up there would be many drugs, many treatments, pumps even… And it would be covered by insurance".
Lakshmi's campaigning for awareness surrounding endometriosis has made a huge difference for many people, including the next person on this list.